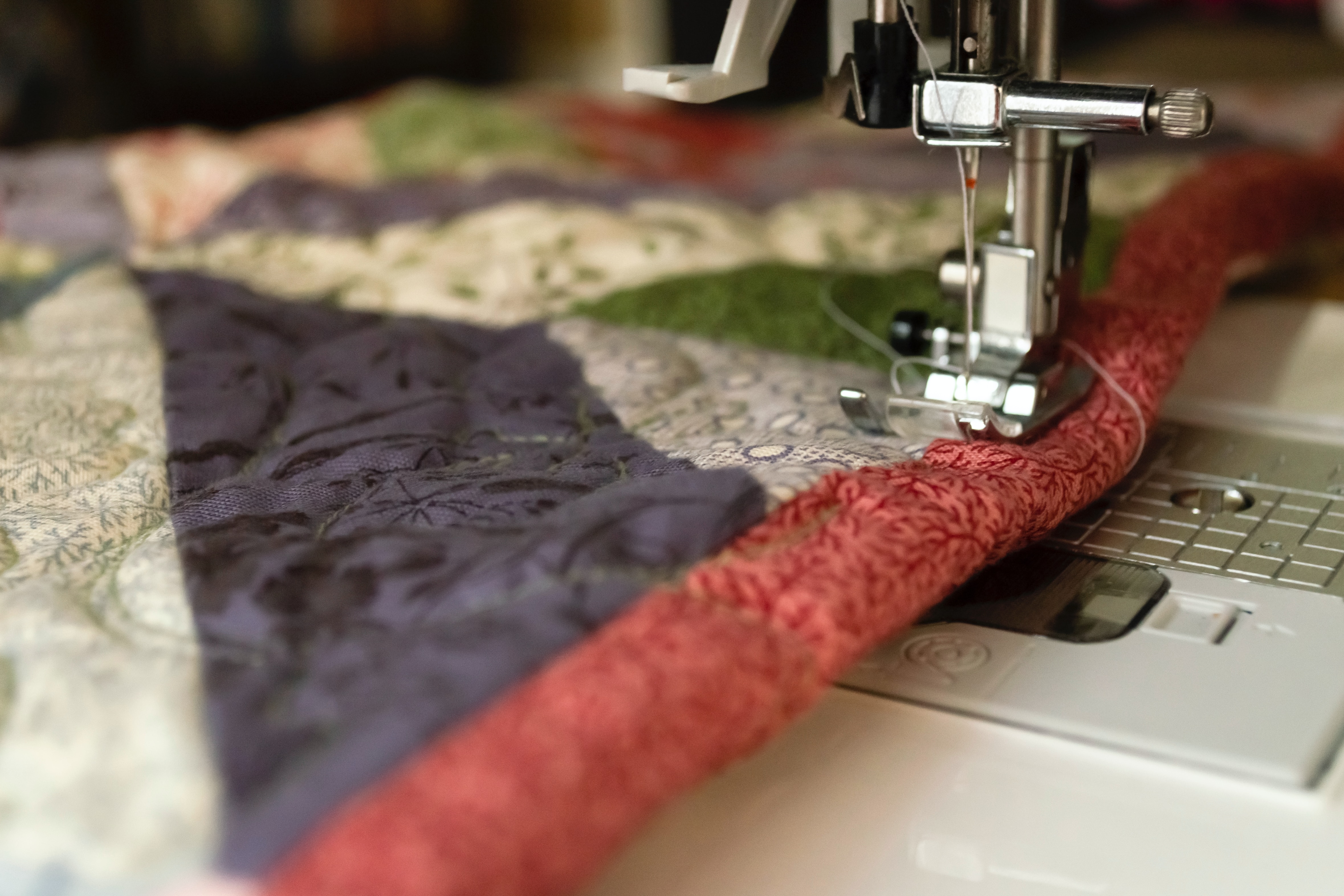 Quilting is a time-honoured craft that has been passed down through the generations. Quilts are not only beautiful works of art, but they are also functional pieces that can be used to keep you warm on cold nights.
If you've ever wanted to create your own quilt, this post is for you! We'll cover the history of quilting and share some tips on how to get started. So grab your needles and patchwork cotton fabric and let's get started!
A Brief History of Quilting UK - from its origins to modern techniques
Quilting has been around for centuries, and its origins can be traced back to the Middle Ages. Quilts were often made using scraps of cloth left over from clothing or quilted cotton fabric pieces gifted by family members.
The earliest quilts are thought to have been patchwork quilts, which were sewn together in a random pattern to form a larger design. Over time, this practice evolved and quilters began incorporating more complex patterns, such as appliqué work and piecing techniques.
In modern times, quilt-making is a popular pastime that's enjoyed by both professional and hobbyists alike. Today's quilter has access to an abundance of tools and materials that make the process easier than ever before.
General tips on how to choose fabrics and patterns for your quilt
Choosing the right fabrics and patterns for your quilt is one of the most important steps. It's important to consider how much time you want to spend on the project, as well as how intricate a design you would like to create. The type of fabric that you choose will also depend on what type of quilt you are making. For example, if you are creating a patchwork quilt, it's best to use cotton fabric in light and medium weights, but if you're creating an appliquéd quilt, heavier fabrics such as wool or velvet should be used.
When it comes to patterns, there are many options available depending on your skill level and desired complexity. You can find pre-printed designs online , as well as patterns for individual quilt blocks. You can also create your own unique pattern by combining elements from a variety of different designs.
Step-by-step instructions on how to make a basic quilt block
Once you've chosen your fabrics and pattern, it's time to start piecing together your quilt blocks. Here is a basic step-by-step guide on how to create a single quilt block:
Gather all of the necessary materials including fabric, scissors, pins, thread, and iron.

Cut out the individual pieces according to the instructions in your pattern or design.

Pin the pieces together in order before sewing them together with a machine or by hand.

Press the seams open using an iron for best results.

Layer the batting and backing fabrics behind the top layer of quilt fabric and pin together securely before stitching around the edges of the block.

Finally, stitch the blocks together to create your quilt top and add any finishing touches such as binding or borders.
Making a quilt can be an enjoyable and rewarding experience, not to mention the pride you'll feel when you see it finished! With some basic supplies and a little bit of patience, you can create something truly special that will last for years to come.
Practical advice on how to join different blocks together
Once you have a few quilt blocks made, the next step is to join them together. This can be done in a variety of different ways, depending on how complex your design is and how much time you want to spend on it.
The most common technique used for joining quilt blocks is the 'sashing' method. This involves adding strips of fabric between each block that connect all of the pieces together. You can also choose to add cornerstones or borders around your quilt for added interest.
If you are feeling adventurous, other techniques such as paper piecing or appliqué work can be used to create more intricate designs. However, these methods require a higher level of skill and a lot of patience - so if you are just starting out, it is best to stick with the basics.
No matter which method you choose, don't forget to press all of your seams open for a neat and professional finish!
Ideas on how to add embellishments to make your quilt unique
Adding embellishments to your quilt is a great way to make it truly unique. This can be done with fabric paint, thread, ribbons, buttons, charms, beads and more. Embellishments can also be used to create texture and add dimension to your quilt.
Embellishing your quilt is a fun way to put your own personal touch on the project. Whether you choose to add motifs such as flowers or stars, write out a special message or even just use contrasting stitches for some added interest - the possibilities are endless.
Tips on how to care for your finished quilt so it lasts for years
Caring for your quilt is just as important as making it. Proper care will ensure that your quilt lasts for years and remains looking like new. Here are some tips on how to look after a handmade quilt:
Regularly inspect the quilt for any rips or tears, and mend them immediately if necessary.

Hand wash or spot clean the quilt with mild detergent in cold or lukewarm water, then air dry flat on an ironing board away from direct sunlight.

Vacuum the quilt regularly to remove dust and dirt particles - this will also help keep its shape intact over time.

Store the quilt in a cool , dry place away from direct sunlight or moisture.
With these simple tips, your quilt can remain in perfect condition for many years - so you can enjoy it for generations to come!
Creating a handmade quilt is a great way to express yourself through art and bring a little extra beauty into the world. Although it may seem overwhelming at first, with patience and practice you will soon be able to create stunning works of art that last for years. From gathering quilting materials, piecing together blocks and adding embellishments - there are plenty of ways to make each quilt unique.
With proper care, your quilts will remain as vibrant and beautiful as the day they were made - allowing you to treasure them forever.
Get Quilting Materials UK From I Want Fabric
I Want Fabric is your go-to source for quality quilting fabric. Our selection of quilting cotton fabric and other quilting materials includes the latest prints and designs, as well as classic favourites that are sure to inspire your next project. With our easy online ordering process, you can have your order shipped directly to you, so you can get started on your quilt right away!
Start browsing today and find the perfect quilting fabric and quilting fabric supplies for your next project! Alternatively, why not explore our wide range of upholstery fabrics?